ANNUAL MEETING OF MEMBERS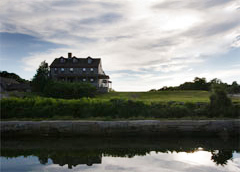 Saturday July 1, 2023

A large group of QHPT members gathered on a beautiful summer evening at the Harbor House for the QHPT Annual Meeting on July 1, 2023. Chairman Randy Evans called the meeting to order and gave a summary of the QHPT's successful fundraising efforts to complete the entire rock armor restoration over the course of 2 active years. Randy highlighted the generosity of the Quissett Harbor community in supporting the preservation of a magnificent publicly accessible resource.

Dana Rodin gave a report on the three stages of completion of the rock armor, the start of the replanting process and an upcoming project to stabilize the outer harbor bank. President John Sigel reported on additional QHPT initiatives, including the upcoming Wheeler Lecture, the Harbor and beach cleanup, participation in the Quissett Association's initiative to install sea level monitoring equipment and a continued interest in invasive plants. Laura Morse described the upcoming Wheeler Lecture by Woodwell Senior Scientist Dr. Jessica Francis on climate change and extreme weather. Randy closed the meeting by expressing the Trust's gratitude for the help and support of the Quissett Harbor community.
The meeting was followed by appetizers and reception on the Harbor House lawn.