QHPT CAPITAL CAMPAIGN



Your support does make a difference!
You do not have to become a
member in order to support the Quissett Harbor Preservation Trust.

You can make a tax-deductible donation by selecting the button below.


You do not need to have a PayPal Account
in order to make a donation with PayPal.
Your contribution is tax-deductible
to the extent provided by law.


The Quissett harbor Preservation Trust has recently announced a Capital Campaign.
Our goal is to raise $500,000 to repair significantly deteriorated sections of the rock armor protecting the causeway and the Knob.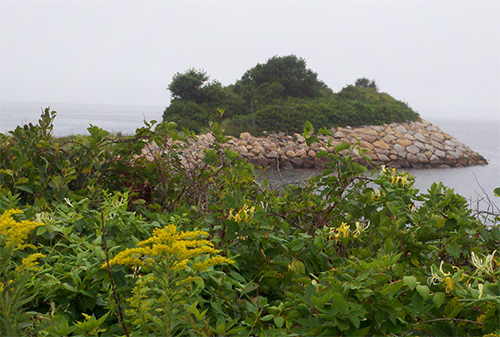 Your contributions may be paid over 3 years. Some families have purchased $5,000 Life Memberships for themselves, their children, or grandchildren.
 
A 2017 coastal engineering study report concerning the stability of the rock armor on the Knob recommended a total rebuild estimated at more than $3 million. Recognizing this would be a huge undertaking; the QHPT Board sought and received a second opinion from CLE FOTH and they reported that erosion over time combined with damage from recent winter storms have weakened the causeway of the Knob and $350-$500,000 of emergency repairs are now necessary.
 
At its June meeting, the QHPT Board voted to proceed with the emergency repairs. We have contracted CLE FOTH Engineering to proceed with engineering design and application process for permits
 
At our 1 July Annual Meeting of Members, we reported the above and handed out pledge cards. We're happy to report that the combined results of a Silent Phase of our campaign and commitments made that day exceed $451,000 in pledges with current contributions of $329,000. We think you'll agree we've had a great start, but we need your help to reach our $500,000 goal.
 
The Knob is owned by Salt Pond Areas Bird Sanctuaries. Over the last 3 years, our QHPT had worked closely with Salt Pond to develop a long-term management plan and a multiyear permit to undertake erosion and land management. We have shared the expenses of this work with Salt Pond and we hope you've had a chance to see improvements first hand. Our partnership with Salt Pond is strong and crucial to future stewardship of the Knob and our broader concerns for the entire Quissett Harbor environs. However, the resources available to Salt Pond are limited and they have other properties under management. Thus, our expectation is that the QHPT will most likely be called upon to fund the majority of the Emergency Repair expenses. 
 
We hope that you will consider supporting these critical projects. We've had a bad winter and can expect late summer storms and more winter winds and waves to affect our Knob. We want to raise this money now so that we are prepared to meet the needs. 
 
If you have any questions, please feel free to contact our President, Randy Evans, at randy@lighthouselacrosse.org. He would be more than happy to speak to you about our programs and answer any questions you might have.


QHPT accepts secure, online payments through PayPal.
You do not need to have a PayPal Account in order to make a payment with PayPal.
If you prefer, you can click here to download a Printable Pledge Card.